Home to over 700 Elephants!
Addo Elephant Park Full Day Safari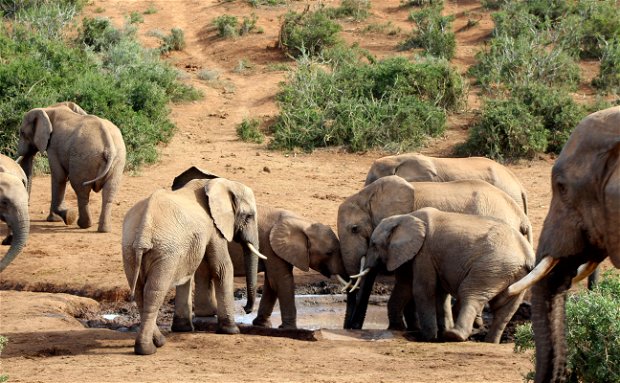 Addo Elephant National Park - Home to the 'Big 5' and one of the densest Elephant populations in Africa. Addo offers unrivaled biodiversity and a magnificent game viewing experience in a Malaria free environment
Spend a full day exploring the 3rd largest National Park in South Africa with our expert guides! 
The original elephant section of the park was proclaimed in 1931, when only eleven elephants remained in the area. Today this finely-tuned ecosystem is home to one of the densest elephant populations on earth, with over 600 elephant, lion, buffalo, the endangered black rhino, spotted hyena, leopard, a variety of antelope and zebra species, as well as the unique Addo flightless dung beetle, found almost exclusively in Addo. The park can exclusively claim to be the only national park in the world to conserve the "Big 7" – the Big 5 as well as the southern right whale and great white shark off the Algoa Bay coast. Plans are currently afoot to include the proposed proclamation of a 120 000 ha (296 500 acre) Marine Protected Area which includes islands that are home to the world's largest breeding populations of Cape gannets and second largest breeding population of African penguins. An excursion to the Addo Elepahant park is a must when visiting this unique area 
Tours depart daily from Lungile Backpackers.
Gallery
Itinerary
Full Day Addo Elephant Park Safari

09h00 - Pick up from Lungile Backpackers
09h45 - Arrival at the Addo Elephant National Park
10h00 to 13h00 - Game viewing in the southern part of the park
13h00 to 14h00 - Lunch break at main camp
14h00 to 17h00 - Game viewing in the northern part of the park.
17h30 - Exit the park
18h00 - Arrive back in Port Elizabeth