Ke December in the Friendly City of Port Elizabeth
Posted on Fri December 14, 2018.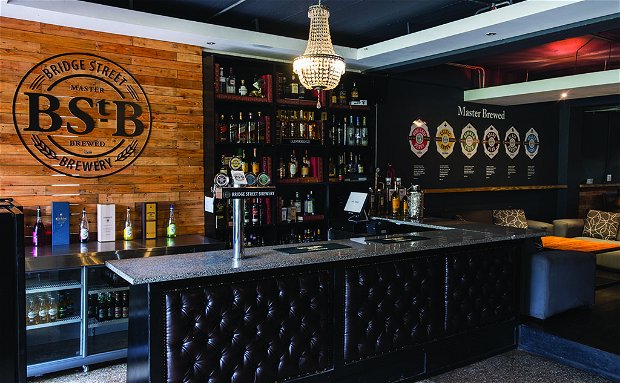 We've reached that time of the year in the beautiful city of Port Elizabeth – great weather, even friendlier people, and plenty of things to tick off your bucket list.
We are so excited about the festive season and the excitement all around us that we have decided to share some of our favourite PE December hotspots, which are bound to be overflowing with happy summer vibes:
Bridge Street Brewery
Situated on the banks of the Baakens River in the heart of the city, Bridge Street Brewery offers everything to get you in the festive spirit. Food to tantalize anyone's taste buds, locally crafted beer to toast the good life and pulsating live music. Local craft beers that are a must-try include a light, nutty Pilsner and a chocolate-flavoured ale that is rich and delicious – what better way to get into the spirit of summer than at Bridge Street Brewery.
Roof Garden Bar
Central Port Elizabeth is full of early British settler history, beautiful churches and historic monuments and buildings. (Check out our Port Elizabeth City Tour here.) But there's also plenty of exciting development changing the face of this inner-city suburb – like the Roof Garden Bar. This prime party spot plays host to many cool events because of its rooftop location and great views of the city centre and Algoa Bay. It will be the place to be on New Year's Eve when they host an event that is guaranteed to rock your party socks.
Stanley Street
This street is making waves in the food and entertainment industry and is located in the previously unremarkable suburb of Richmond Hill. Stanley Street has become one of the most popular dining spots for locals and internationals who enjoy the diverse range of eateries and bars found all along the strip. Popular spots include Salt, Fushin, Angelo's, and Upstairs bar lounge. Stanley Street is the place to be in PE this festive season.
Beershack & White Tiger
Situated along Beach Road in the vibrant seafront area of Humewood, Beershack and White Tiger are bar-styled restaurants that convert into epic nightclubs later in the evening. Popular among students in Port Elizabeth, these two spots offer a great opportunity to meet new people, enjoy awesome music, and an even better vibe. Because they are situated right next to one another, one can always drift between the two when looking for a quick change of scenery. (Bonus: They are just around the corner from Lungile Lodge.)
Ziggy's Rock and Reggae Bar
Situated along Marine Drive in Port Elizabeth, Ziggy's is the place to go if you're looking for a chilled place to socialise with friends and meet the locals. This vibrant beach bar is located in the peaceful Cape Recife Nature Reserve. This spot is perfect for the summer months with its sea-facing deck and great atmosphere.