Port Elizabeth's Heritage City Tour
Posted on Tue August 14, 2018.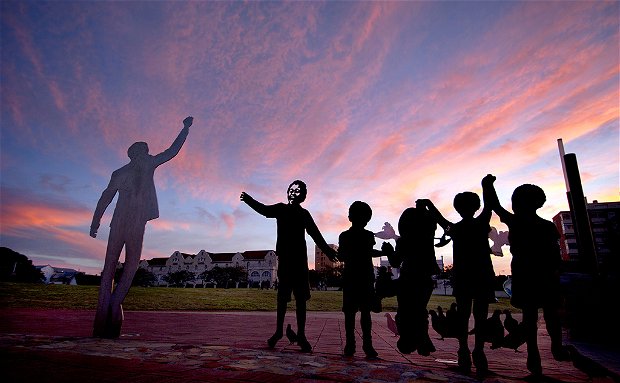 The South African city of Port Elizabeth has a complex and colourful history, as you will discover when taking a city tour.
Doing a city tour costs next to nothing and is informative and exciting. If you're staying with us, you can even book a free city tour where our awesome guides will be keen to share their knowledge of Port Elizabeth. Here are five highlights you get to see:
1.       Mandela Bay Development Agency's Route 67
This route through central Port Elizabeth consists of 67 artworks which represent the number of years the father of our nation, Nelson Mandela, dedicated to ensuring the freedom of South Africa and its people. The artworks are all created by local artists and celebrate South Africa's heritage. The Donkin Reserve, where many of the artworks are found, includes a lighthouse and a commemorative pyramid. The flagpole on the reserve is the second tallest in Africa! This route is a priority stop when touring in and around Port Elizabeth.
2.       The Donkin Reserve and Fort Frederick
One of the main stops on Route 67, the Donkin Reserve is a well-known public space in Port Elizabeth with a beautiful love story behind its name. Sir Rufane Donkin built and named this historic site after the death of his young wife, Lady Elizabeth Donkin. While some people think the city was named after the British queen, it was in fact named in memory of Sir Rufane's great love. Today, the Donkin is a public reserve covered in beautiful art installations including mosaic work and statues. A few minutes' walk up the road is Fort Frederick. This fort was originally built by the British in 1799 and served as protection against a possible landing of French troops in the harbour. No shot was ever fired from its cannons in anger. Today it stands as a historical site, and the views over Algoa Bay alone are bound to leave you speechless.
3.       The Campanile
The heritage tower known as the Campanile was erected to commemorate the centenary of the arrival of the British Settlers in 1820 in Algoa Bay. This 50m high landmark now stands proudly overlooking the harbour and surrounding areas of Summerstrand, Humewood and South End. After climbing the 204 steps (or taking the lift if you are physically unable), enjoy the views from the observation room. The Campanile has a chiming clock and a carillon of 23 bells – the largest in the country.  The interactive organ allows one to play just about any tune.
4.       The suburb of South End
The suburb of South End has quite an interesting and colourful history, evoking the best and worst of South Africa's past. Just like District Six in Cape Town, South End was a lively and ethnically diverse neighbourhood until it became a site of forced removals during the Apartheid era. As a prime location right near the city centre, it was designated as a "white area", with non-white community members relocated to areas assigned according to their particular racial groups. The suburb's history can be viewed at the South End Museum where visitors will be able to view pictures and relics of the community before Apartheid. The area is also home to a few mosques, Hindu temples, and beautiful historical buildings as well as the old fig tree that still stands today.
5.       St George's Park Cricket Stadium
St George's Park cricket stadium was established in 1859 and is home to the second oldest cricket club in South Africa. It was also the venue for the first Test cricket match as well as the first women's international Test. St George's Park has played host to many historical events, including South Africa's first rugby test, and it even rolled out the red carpet to royalty when the young Queen Elizabeth – then just a princess – visited Port Elizabeth in 1947. A must-see for sports fanatics and history buffs that is bound to bring back so many good memories whilst on your city tour of Port Elizabeth.