An average in day the 'Friendly city'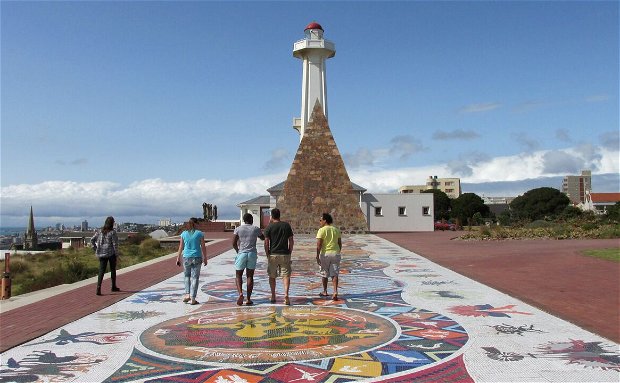 Ahoy and welcome travelers/backpackers, globe trotters, culture enthusiasts or anybody living in the Eastern Cape looking for a few action packed days away. Look no further than Port Elizabeth, AKA… P.E, 'The Friendly City' or 'The Windy City' as most would know it. A truth speaks about one nickname but not so much about the other, P.E is a brilliant example of diversity, equality and economic growth in a modern South African City which is in its own right, stooped in history.
During the years of Apartheid this city and in particular the 'New Brighton' township was a key location for the ANC Freedom Fighters to meet under the radar to discuss numerous ways to bring an end to the regime and find a light to shine over a new South Africa for all of its people.To deliver freedom and democracy before the inevitable outbreak of a civil war. Believe it or not, P.E even up till the early 70's was a very mixed and harmonious place or all of its people from all ethnicities and backgrounds - only in the last 15 years of apartheid did sections of the city have its own separated areas. Whether you walk the streets day or night you will quickly realize why Port Elizabeth has been named the 'Friendly City'.
Port Elizabeth is situated perfectly with award winning Game Reserves and National Parks that are easily accessible from the city center. Adrenaline junkies, beach bums, wildlife enthusiasts, party people and the like Port Elizabeth has something to suite every desire!
P.E city Tour (approx 4 hours) R150

A stop at the 'Something Good roadhouse' for the country's tastiest milkshake.
To see the oldest Library in P.E home to the Nelson Mandela Metropolitan University's finest literature and to find out that in which Cartoon movie is the P.E library's interior based on? Come and see for yourself.
Modern Art trail, follow your guides up the hill of 67 Contemporary Pieces of Art and Sculpture, all locally produced by the homeless and poverty stricken residents of P.E, who are rehabilitated and trained in this medium of art and get the opportunity to have their work showcased for the city to see. 
Panoramic views from the famous city center Lighthouse, enjoy great views of the ocean and neighboring towns while sipping a latte from its very own downstairs cafe. 
 Drive to the Nelson Mandela Bay Rugby Stadium for a photo. (Entrance optional + additional fee)
Walk inside St.George's cricket ground, one of the country's oldest Cricket venues, you are even allowed to walk onto the grass without being chased by security, how that? 
Check out Fort Frederick, a military outpost built by the British in 1799 to check for incoming fleets and alien vessels (The French).
Pass by the student quarter of P.E and make a short list of popular and local Bars/Restaurants that you will spend your nights sampling. 
 
Sand boarding at Sardinia Bay + Sunset Hike (approx 3 hours)

Get driven 30 minutes away from the hustle and bustle of P.E and get dropped off at Sardinia Bay for a Sand boarding adventure located on moderately large sized dunes with beautiful ocean view ahead of you. The more experienced boarders, or those who like to have sand in their teeth have the chance to try out the Maitland River Dunes which are some of the largest ones in South Africa. After running back up and down the dunes you can cool down your calf muscles and take a perfectly timed stroll to the sun downer spot and sip on a few cold ones as you watch the sunset over the ocean.  
Game Drive and Elephant Sanctuary (approx 6.5 hours) R1,300

If it's close encounters with some Africa's most predatory and beautiful creatures that you are after… P.E is the perfect starting point to your adventure! Get up close and personal with some of the continent's Big Five. With breakfast and lunch included in the price, its a 1 hour journey towards the direction of Addo, and this is where the magic begins. After your light meal hop in the vehicle and meet your fellow animal enthusiasts and get to know your guide for the day. Keep your eyes peeled for Springboks, Kudu, Monkeys, Baboons, Ostrich, Impala, Jackal, Zebra, Wildebeest, Giraffe, Rhino, Hippo and King of the Jungle itself….the African Lion. The driver will get you as comfortably close as possible for you to capture a picture perfect moment, but only if you follow strict safety guidelines provided by the driver upon departure. 
After a morning filled with documented memories of your drive around the reserve, relax over lunch as you compare photographs and then get taken to the Kwantu Elephant Sanctuary a mere 10 minute drive away and start your next adventure. Here you will get to meet the next Giant of African wildlife and get the opportunity to get really close, and how close? Start by taking a 15 minute ride on the back of the African Elephant with an experienced guide and enjoy the harmonious journey of a lifetime. Take in the sights and breathe in the insightful knowledge from your guide with all that is to know about this true gem of nature. You will get personally introduced to your 'own' Elephant after your stroll together and then get the chance to feed them lunch. Get introduced to 'Mamarula' (African Fruit) and 'Ndlovu' ('Xhosa' word for Elephant) and get a beautiful photo memory to take home with you and make all of your friends jealous of your super-close encounter with a gentle Giant. 
Game Drive and Elephant Sanctuary (approx 6.5 hours) R1,300

Visit the world famous Addo area and get a very different experience on your South Africa adventure, here you will see Wild Elephants. Enjoy a very informative drive around the park and keep your eyes open for Kudu and Springbok as you get educated on the habits and movements surrounding this beautiful creature. On a good day you will be lucky enough to see them walking directly in front of your vehicle in a single line of 20 on their way to the watering hole for a drink and an Elephant shower, or even see two males fighting over a lady in an impressive act of setting their own territory. Your guide will take you as close as safely possible for you to take a snap shot and return back to base to show the world, a trip to the gift shop and a meal is provided in a nearby lodge at the end of the activity before you set off on your next trip.
You can see more Wildlife in this next 4 hours than most people will see in 3 lifetimes over. After chasing a herd of Zebras, standing on Monster sized Termite mounds, and sneaking up on some Giraffes, you guide will drive you around in search for the big predators, and just in time for the sunset. One hasn't lived until they have tried a Nocturnal Game drive in search of Crocodile, Hippopotamus, Rhino, Warthog and the Lion, get your cameras out and capture a whole different world. Remember to pack your lucky rabbits foot with you just for that perfect photograph.
After the end of a full day of searching for long lasting memories out in the African Wilderness you and all of your Game Drive Buddies and will enjoy a feast around a campfire and reflect on your perfect day in paradise.